Tom Robinson (NFAN) & Kathryn Clemens (Kiwa)
Presentation Summary: NFAN Approved Animal Attraction certification scheme
The Industry Code of Practice (COP) was published shortly after the Griffin Report became available in 2010, with a further revision in 2015. The advice contained in the COP has always been very practical and easy to understand. However, it has been a constant source of worry for the NFAN Committee that guidelines in the COP are not being properly adhered to on all farms. In simple terms, NFAN are very keen that the lessons learned from the 2009 outbreak are not forgotten and that COP guidelines are maintained and implemented on all open farms and visitor attractions with animal displays. With this background in mind, NFAN have been working on a certification audit scheme to help operators improve standards on their farms. This was launched at the NFAN Conference on 1 Feb 2018.
Download powerpoint presentation pdf – available to NFAN members only. The link will appear below when you are logged in.
Barry Davies – Davies & Co.
Presentation Summary: Business Rates Update.
• Farm Attractions 2010 and 2017 Rateable Values – statisics
• 2017 'Check, Challenge, Appeal' (CCA)
• Top Tips for appealing your Rateable Value, how it is assessed, information needed to challenge
• Exemptions and Reliefs
• Beware of pitfalls – 2010 and 2017 Rateable Value: increase in assessments 'or' Material Change in Circumstances (MCC) – VOA Inspections
• The power of NFAN as a Co-operative Consortium
o Independent National Co-operative for Farm Attractions
o Sharing knowledge of "Truly" comparable evidence to give weight in reducing the Rateable Value
o Raising the profile through Central Government and other organisations; Access to Farms, ATF
Presentation to follow
Biography
A Chartered Rural Surveyor specialising in advising farm attraction businesses on Business Rates assessments and appeals. Securing planning permission and providing valuation advice for securing funding. Barry is a member of the Institute of Revenues, Rating and Valuation (IRRV) and Rating Surveyors' Association (RSA).
Email: info@daviesandco.co.uk  Tel: 01536 524808
Tim Thurston- TeamKAI
Presentation Summary: Nine key elements of high performing teams – lessons from elite sports.
TeamKAI is a training company launched by professional rugby player Kai Horstmann and successful businessman from the South West.
The company's keynote philosophy "Nine key elements of high performing teams – lessons from elite sports", highlights how elite sports teams achieve success through optimising teamwork.
This adds real value to your business and improves efficiency.
Tim Thurston, director of TeamKAI, will illustrate these elements with sporting examples and explain how they can transcend into your business.
The aim of the session is to get you to think about:
• How you work in your team
• How you can improve your contribution
• How effectively your team performs
• How you can improve the performance of your team
Download powerpoint presentation pdf – available to NFAN members only. The link will appear below when you are logged in.
Biography
Tim Thurston is a director of TeamKAI and also a director of the business consultancy Thurston Cooper Associates.
He has had over 20 years of senior management experience, having been managing director of four publishing businesses including Archant's county magazines, Autotrader and several regional newspapers based in the South West.
Having benefited from Henley and Cranfield training, he has developed teams to achieve success and managed several change programmes. He now works with businesses, helping them to develop their teams and provides consultancy on business strategy, sales and marketing.
Email: tim@t-c-associates.co.uk  Tel: 07793 264611
Paul Kelly – BALPPA
Presentation Summary: Theme Parks and Attractions, a wider industry perspective.
Review of current trends in theme parks and attractions, followed by an overview of the ADIPS inspection scheme for amusement devices.
Download powerpoint presentation pdf – available to NFAN members only. The link will appear below when you are logged in.
Biography
Paul started work at Thorpe Park in 1986 as a ride operator. Over the next 13 years he worked in every operating department in the Park gaining valuable operational management experience. He opened the London Eye in 1999 and after the Merlin acquisition worked in business development. Paul left Merlin in 2010 and worked on a number of wheel projects around the world. He has been CEO of BALPPA since 2012.
Email: paul@balppa.org Tel: 0207 403 4455
Andrew Wolfe
Presentation Summary: Effective Ideas to add value.
Andrew will talk about how the team can enhance your customers experience thus adding value.
Download powerpoint presentation pdf – available to NFAN members only. The link will appear below when you are logged in.
Biography
Andrew over 20 years developed a number of businesses by diversifying a 1500 acre estate near to St Albans, initially as a tenant Farmer. In late 2017 he stepped down as CEO of Willows Activity Farm remaining as a shareholder and director. Andrew provides mentoring services on a retained basis to over 15 diversified farm businesses including a number of Farm Parks. He is Chairman of Governors of a Land based college, a committee member of LEAF and still shears his own sheep!!! By far his best achievement is to have remained married for over 31 years!!
Email: andrew@porthillfarm.co.uk  Tel: 07702 554787
Tom Honeyman Brown – Tapnell Farm Park
Presentation Summary: Adding value through accommodation
The tourism offering at Tapnell started with on-site accommodation and most of what they have done since has been about creating a better experience for those guests staying on-site. The talk will give a whistle stop tour of the Tapnell story so far with a more focused look at the accommodation, showing how and why it is so important to their offering on the Isle of Wight.
Biography
Having moved from London in 2010 to run The Garlic Farm on the Isle of Wight, Tom came back to the family farm at Tapnell in 2015 to join his brother in law (also Tom!) who had already kick-started the leisure enterprise at the farm with the creation of the award-winning glamping offering, Tom's Eco Lodge. As the dairy business on the Isle of Wight wound down, the tourism elements grew, with the introduction of an on-site restaurant in 2015 and the creation of Tapnell Farm Park a year later. As well as tourism the farm focus on renewables and continue to grow arable crops to feed the AD plant.
Email: tomhb@turneysfarming.com Tel: 01983 758723
Doug Douglas – Avon Valley Adventure & Wildlife Park
Presentation Summary: My added value wins
After taking the park over and stopping all print marketing we moved to only Face Book marketing; due to this we had to look to find ways to be valued more than other local attractions. We did this in a number or way, some of these will be talked about briefly.
Biography
Doug studied technology and business management at Oxford Brooke's University then served for 12 year in the 2nd Bn Royal Welsh Regiment completing a tour or Iraq and two in Afghanistan. In 2012 he moved to serve as a Military advisory to the Royal Jordanian Armed Forces then left the army in 2014 to take over Avon Valley Adventure and Wildlife Park. Taking the park from 75k visitors to 200k visitors in the last 3 years.
Email: douglas@avonvalley.co.uk  Tel: 01179 864929‪
Toni Lilley, Scream Park and Farm Park Entertainments
Presentation Summary: Adding value through theatre
Children love stories, adventures and magic. So do grown ups. What is the story of your Farm Park? What adventures could your guests embark upon? How do you make it magical?
Whether you want your guests to scream with laughter or fear, from toddlers to old timers and everyone in between, there are ways to get them all to dance to your tune, but how?
Farm Park & Scream Park Entertainments will try to answer these questions… with a twist
Toni's presentation was delivered as a theatrical show with a cast of actors and puppets –  there is no powerpoint available.
Biography
Toni Lilley is co-director of Scream Park and Farm Park Entertainments Ltd. Previously an actor and writer, she has performed and written for theatres, touring companies and site-specific venues across the UK and Europe. She is also known for her interactive character performance, street theatre and improvisation, including work with Alton Towers, and in Horrible Histories at Warwick Castle. Writing credits include bespoke shows, plays and concepts for theatres, schools and alternative theatre venues such as libraries, museums and holiday and theme parks. For Scream Park/Farm Park Ents, she takes a hands-on approach and continues to write and perform alongside a talented team of actors, writers, musicians and other creatives to create unique theatrical experiences for Farm Parks and Theme Parks across the UK.
Email: toni@screampark.co.uk Tel: 01342 420 041
Beth Heath, Shropshire Festivals
Presentation Summary: Hosting a festival on your farm
It's all about fun. It's about giving people a good time, making people happy and putting a smile on their faces. It's about bringing out the best in people, making an event realise its potential and ensuring the crowds want to come back for more. Hosting a festival on a green field site can be lucrative but it doesn't come without its risks – don't even embark on the journey if you're not a gambler.
Presentation to follow.
Biography
Beth Heath is the owner of Shropshire Festivals and Director of Fun. She has over 17 years organising events in castles, farms and green field sites. She ran Ludlow Food Festival for 12 years taking it to the success it is today and has assisted Tulleys Farm in the past with their Halloween attractions. She now manages a host of events including, Shrewsbury Food Festival, Shrewsbury Christmas, Shropshire Kids Festival, Shropshire Oktoberfest attracting over 60 000 visitors. She also has a consultancy business which has helped launch Towcester Food festival, Cosford Food Festival and several others across the country.
Email:  beth@shropshirefestivals.co.uk  Tel: 01952 432175
James Sinclair, The Entrepreneurs Network and Marsh Farm
Presentation Summary: The Experience Business
How is it that some companies seem to be able to charge sky-high prices and 'get away with it' while their competitors struggle to get customers at any price and often end up discounting their way out of profitability and business? The answer lies in The Experience Business.
* The Key Differences between experience businesses and price-led businesses
* Why businesses need a set of rules to consistently deliver Great Customer Experiences
* How to craft a set of experience rules to drive your own Business Growth And Profit
* The Secret Weapon of every profitable experience business
* How to shortcut the traditional customer journey from Prospect Into Raving Fan
James' presentation was delivered with the use of flipcharts and other visual aids, there is no powerpoint available.
Biography
Having started his business as a self-employed children's entertainer straight out of school at age 15, James Sinclair has gone on to build a business empire spanning industries including entertainment, leisure, recruitment and business training. 17 years later, that same start-up has transformed into the Partyman Group, one of the largest entertainments businesses in the UK, with over 350 staff and £10million turnover across 7 businesses and over 20 sites in the UK including Marsh Farm, a 30 acre park attraction in South Woodham Ferrers. Having achieved success at a young age, James soon found himself in demand as business speaker, with dozens of requests for help from business owners keen to understand how James had transformed himself from teenage party entertainer into hugely respected business owner. James has gone on to write 2 business books, and co-found Entrepreneurs Network, a membership based organisation offering affordable business coaching to entrepreneurs to help them to improve their businesses.
Email: jimbo@entrepreneurs-network.co.uk Tel: 0121 272 1212
Trade Exhibition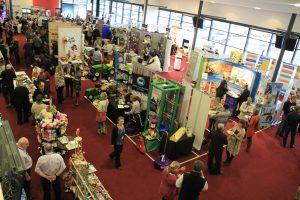 With over 70 exhibitors the Trade Exhibition is very much part of the Conference. It is only accessible to delegates who have paid the appropriate conference fee. The Trade Exhibition was open on Wed 31st from 6pm – 8pm as part of the drinks reception, and on Thurs 1st from 08.30am – 2.50pm.
You can see the latest products from play and entertainment providers, find out about the latest online ticketing and web innovations, as well as have an opportunity to discuss your requirements with specialist industry experts from the marketing, planning and insurance professions.
We are pleased to welcome a number of first time exhibitors including: Aardman Animations, Air Bouncers, Bridle Insurance, DHX Brands, Miniportworld, Scream Park Entertainments, Script Media, Techmat 2000, Teddy Mountain, The Plastic Company, TouchWood Play & Wicksteed.
You can also meet this year's sponsors Davies & Co, Marsh and Company and S Gregory & Co.
Find the exhibitors you want to talk to, download a pdf of the Trade Exhibition floorplan here
Companies exhibiting at the Trade Exhibition:
Aardman
Activity World
Agility Marketing
Air Bouncers
Amazing Interactives
Ark Toys
Autoculture
BERG
Booker
Bounceabouts
Bridle Insurance
Colour Heroes
David Taylor Design
Davies & Co.
Deluxebase
DHX Brands
Digitickets
Dofygate
FARMA
Flamingo Marketing
Formula K
Fun Fear
Gateway Ticketing
Grass Sledge
Greenspan
HAGS
Haven Systems
Huck Nets
Infinite Playgrounds
Innovative Leisure
Interfun
Jumping Pillows
Jupiter Play
KC Solutions
Kids Play Childcare
Kiwa
KOMPAN
Lappset Creative
Marsh & Co.
Marshfield Farm Ice Cream
Miniportworld
NFAN
NGF Play
Nicco Parks & Resorts
Outdoor Play People
Partners Leisure
Playscheme
Preseli Gifts and Souvenirs
Proludic
Rainbow Productions
Regency Purchasing
Robbie Toys
Rupert Oliver's Ideas Factory
Russell Play
S. Gregory & Co.
Scream Park Entertainments
Script Media
Soft Brick Co.
Stephen Candy Photography
TeamKAI
Techmat 2000
Teddy Mountain
Teddy Tastic
The Plastic Company
The Play Inspection Co.
Timberplay
Tornado International Ltd.
Touch Wood Play
Tractor Ted
Tyg Tickets
Unique Catering
Vennersys
Vimto Out of Home
Vision XS
Wicksteed
World of Rides