Animal Attraction Assurance – Certification Scheme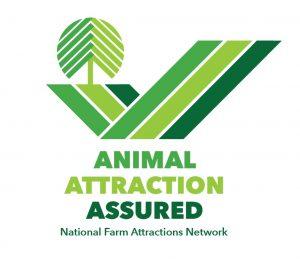 Become Certified today
The Animal Attraction Assurance Scheme (AAAS) provides farm parks with an independent assessment for correctly implementing the Industry Code of Practice and meeting high animal welfare standards.
The Industry Code of Practice  was launched in 2018 and provides formal guidelines on how adults and children interact with farm animals.
So far over 60 NFAN Members have become Animal Attraction Assurance Scheme certified.
Five benefits of certification
The AAAS audit visit provides a fresh pair of eyes, always invaluable as a management tool.  NFAN pays £150 towards your AAAS certification.

You'll obtain peace of mind knowing that you've implemented the Industry Code of Practice correctly.

You will be able to promote your certification to your customers, reinforcing your high safety standards. As part of the scheme you obtain a certificate and badge to use on your social channels, website and marketing material.

You can save on insurance fees, despite taking into account inspection fees.  Catlin Insurance via Marsh and Co are quoting savings of around 7.5%, which will still save you money despite inspection costs.

The certification scheme provides staff specific guidelines to follow on how to care for animals and adopt the Industry Code of Practice.
About the Scheme
The Animal Attraction Assurance scheme is run by Kiwa Agri Food and developed in partnership with NFAN. The Certification covers farms adopting the very best safety standards for how adults and children interact with farm animals (covering you for the Industry Code of Practice).
It also covers audits farm parks against the Five Freedoms standard for animal welfare.  The Five Freedoms were developed in 1965 and ensure the mental and physical needs of animals are met.  It states animals should have; freedom from hunger and thirst; freedom from discomfort; freedom from pain, injury or disease; freedom to express normal behaviour; and freedom from fear and distress.
Kiwa Agri Food have been selected by NFAN to carry out the AAAS annual inspection and manage the accreditation scheme.     They are the Agricultural division of Kiwa (a large company providing certification services to a broad range of industries).
What happens on Inspection Day
To become certified, an annual visit will take place at your convenience and should take between 2-3 hours depending on the size of your site.  
You will have access to the AAA Certification Standards ahead of your visit by an AAAS inspector.  They will tour the relevant sections of your farm park and check certain documents.
On passing the audit, a certificate will be issued to show compliance with the scheme. Should any issues be identified, you can correct these and still obtain your certificate under this inspection.
Request the audit checklist
You can request the audit checklist below to review in advance and check you are ready for certification.
NFAN will pay £150 towards your annual certification
Being part of the AAA scheme is really a 'win win' for your customers, staff and the industry.
As well as NFAN offering their members £150 against the inspection/accreditation fee for 2020, you could also save on your insurance costs.
NFAN are passionate about getting members to join the scheme and we encourage as many members as possible to join.
The table below indicates the accreditation costs after NFAN's £150 contribution and the additional savings you could make on insurance.
| | | | |
| --- | --- | --- | --- |
| Annual Visitor No's NFAN Cat. | AAAS Certification (after £150 NFAN contribution) | Maximum potential insurance saving EG  Marsh & Co.# | Total potential annual savings |
| <20k | £225 | -£500 * | -£275 |
| 20k – 74k | £295 | -£1125 ** | -£830 |
| 74k – 150k | £395 | -£1500 *** | -£1105 |
| 149k+ | £595 | -£1500 **** | -£905 |
# Based on 7.5% discount on typical premiums through Catlin and Marsh & Co * Range – £350 – £500. ** Range – £500 – £1125.  *** Range – £1125 – £1500. **** Capped at £1500
How to apply
To register your interest contact Kiwa directly by emailing  uk.farm@kiwa.com or call Kiwa on 01423 878875.    Do not hesitate to contact the NFAN office if you feel we can help.