in
Press Releases
tagged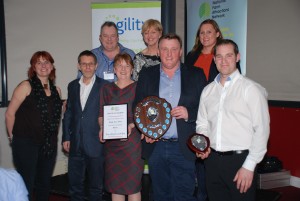 Farm and rural attractions from around the UK gathered in Milton Keynes this week for the annual National Farm Attractions Network (NFAN) conference and awards, celebrating the best in farm parks and countryside attractions.
Over 150 farm and rural attraction delegates were at the conference which included presentations from some of the UK's leading experts on visiting farms and the UK's wider visitor attractions sector.
Ian Pigott, founder of Open Farm Sunday, gave the Keynote Speech in which he gave an insight into his reasons for setting up Open Farm Sunday, a national farm open day which started in 2006 and has subsequently welcomed more than 1.4 million people onto UK farms.
Other presenters included Paul Kelley Chief Executive of BALPPA who gave a presentation on the investment life cycle for attractions, Chris Webster from Wink Associates spoke about the science and art of predicting visitor attraction footfall, and Beth Cooper from Timberplay gave an insight into the psychology of play. Delegates also heard presentations from three different farm attractions who all stage successful Christmas events – Laurence Llewelyn-Bowen take note!
Matt Heast, Chairman of the NFAN, said, "The 2015 Conference is such an important event for the industry and we are delighted to have Ian Pigott as our Keynote Speaker. It is an opportunity to meet and network with fellow operators, learn from a packed speaker programme and meet the key suppliers at the industry trade show, all under one roof."
Alongside the Annual Conference, NFAN hosted its annual awards ceremony, the Farm Attraction 'Oscars' celebrating the very best in farm and countryside attractions. The big winner on the night was Walby Farm Park in Cumbria who scooped at hat trick of awards; Best Food & Beverage, Customer Service Excellence and the top award, the Jim Keetch Farm Attraction of the Year.
Owner Neil Milbourn from Walby Farm Park was delighted. Says Neil, "To win not one but three awards is amazing! This is a great achievement and recognises our team's hard work and commitment to 'Team Walby'. We are continually looking to improve Walby Farm Park and add to our visitor's experience. The quality and entertainment value of farm attractions throughout the UK improves year on year, to reach this standard is an amazing thing when you know how high the standard is now!"
Other award winners were Cannon Hall Farm in Yorkshire who won Best Innovation, and Old Macdonald's Farm in Essex who won Best in Education. Digitickets took the award of Best Trade Supplier.
The Lifetime Achievement award was presented to Barry Davies of Davies & Co.,
In presenting the award NFAN Chairman Matt Heast said, "Barry has been instrumental over the past nearly 20 years in nurturing and growing the National Farm Attractions Network to be the successful membership organisation it is today."
ENDS
Photos Attached:
Ian Pigott gives the Keynote Speech in front of a packed audience
Walby Farm Park team receive the Farm Attraction of the Year award plaque
Editors Notes
Ian Pigott – Keynote Speaker
Ian founded Open Farm Sunday, a national farm open day in 2006 which has subsequently welcomed more than 1.4 million people onto UK farms. Ian Chairs the charity FACE (farming and countryside education) and has helped develop a cross industry careers initiative for farming and food supply called BrightCrop. In 2014 Ian launched The Farmschool, an on-farm classroom and cooking experience. Ian runs a diversified farming business on the urban fringe between the affluence of Harpenden and the industrial town of Luton.
NFAN AWARDS 2015
New Innovation Award
Winner – Cannon Hall Farm, Yorkshire
Joint runners up – Park Hall the Countryside Experience and Fishers Adventure Farm Park
Lifetime Achievement Award –
Awarded to – Barry Davies, Davies & Co., Kettering
Highly Commended – Chris Murray – Pennywell Farm
Highly Commended – Tim Rollings – Fishers Adventure Farm Park
Best Trade Supplier
Winner – DigiTickets, Devon
Best Food and Beverage Award
Winner – Walby Farm Park, Cumbria
Runner up – Adam Henson's Cotswold Farm Park
Highly Commended – Sharnfold Farm and Lee Valley Park Farms
Customer Service Excellence
Winner – Walby Farm Park, Cumbria
Highly Commended – Stockley Farm Park
Highly Commended – Kent Life
Best in Education
Winner – Old MacDonald's Farm, Essex
Runner up – Hall Hill Farm
Highly Commended – Barleylands and Hollow Trees Farm
Jim Keetch Farm Attraction of the Year Award
Winner – Walby Farm Park, Cumbria
NFAN would like to thank Gold Conference Sponsors: S. Gregory & Co, Marsh & Company and Davies & Co; Pre-Conference Tour Sponsors: Innovative Leisure and Unique Catering & Management Services Ltd; Drinks Reception Sponsors: Rupert Oliver's Ideas Factory and Kids Play Day Nursery as well as Awards Dinner Sponsor: Agility Marketing.
About NFAN
Uniting the Farm Attraction Industry, The National Farm Attraction Network (NFAN) has over 250 Members and is the only independent co-operative for farm and rural attractions. Encouraging best practice and knowledge sharing, NFAN proactively updates members on the latest HSE advice, represents the farm attraction industry at government meetings, runs events including the annual conference and awards, and provides ongoing support and guidance to members.
NFAN began in 1996 through the vision of Jim Keetch, a Farm Park owner in Weldon, Northants. He travelled the country, attending agricultural shows encouraging other farm parks to join. Jim Keetch passed away in 1998, but his name lives on through the Jim Keetch Farm Attraction of the Year Award now in its 15th year and through his pioneering work in setting up NFAN, a voice for the farm park industry.
For more information and images please contact David Leon info@farmattractions.net or call 01904 615059