in
Awards
,
Press Releases
,
Resources
tagged
NFAN Awards 2018
NFAN – PRESS RELEASE
3 January 2018
NFAN Annual Conference details and Awards Finalists announced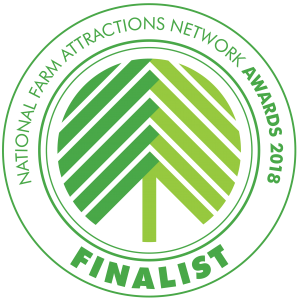 Over 30 farm parks, rural attractions and industry suppliers from around the UK have made it through to the finals of the National Farm Attractions Network annual awards.
Says Colin Evans, NFAN Chairman, "Today we announce the list of finalists in the annual awards. The farm park sector continues to grow and develop with new attractions opening and existing operators investing in new facilities. The standard of entries has been exceptionally high making some tough decisions for the judges.
"The awards celebrate excellence in our sector and recognise the innovators of new attractions and special events, farm parks who provide outstanding education, the best cafés and restaurants, the leading digital marketers and the customer service champions. We also recognise the key role played by the companies who supply our members, with the Best Trade Supplier of the year award."
The winners will be announced on Wednesday 31st January 2018 at the annual awards dinner in Telford as part of a three-day Conference and Trade Exhibition. The annual gathering of farm attraction owners and industry suppliers is the highlight event of the year and includes visits to nearby farm attractions, a trade show with over 60 companies exhibiting and conference sessions with presentations from key industry speakers.
The full list of finalists and details about the NFAN Annual Conference and Trade Exhibition can be found on the NFAN website www.farmattractions.net.
ENDS
Editor's Notes:
The National Farm Attractions Network (NFAN) is the trade association for farm parks and rural attractions in the UK with over 200 farm attraction members and 100 trade members. There are over 20 million visits annually to farm parks in the UK, and over 6000 people are employed by farm parks.
NFAN organise training workshops and open days for members, facilitate networking and represent the interests of farm attractions at a national level. It is an independent not for profit trade association run by a management committee drawn from the membership and is funded solely by its members.
For details of membership and the Annual Conference taking place at the International Centre, Telford from 30 January – 1 February 2018, visit the NFAN website www.farmattractions.net or call 01904 615059.
Full list of 2018 Awards Finalists
Jim Keetch Farm Attraction of the Year Award (Over 75,000 visitors)
Sponsored by Agility Marketing
Farmer Ted's, West Lancashire
Fishers Adventure Farm Park, West Sussex
Hobbledown, Surrey
Whitehouse Farm Centre, Northumberland
Willows Activity Farm, Hertfordshire
York Maze, York
Jim Keetch Farm Attraction of the Year Award (Under 75,000 visitors)
Sponsored by David Taylor Designs
Cantref Adventure Farm, Powys, Wales
Hall Hill Farm, Durham
Tapnell Farm Park, Isle of Wight
The Pink Pig, North Lincolnshire
Innovation Award
Sponsored by Marsh & Co Insurance
Cannon Hall Farm, South Yorkshire
Fishers Adventure Farm Park, West Sussex
National Forest Adventure Farm, Staffordshire
Park Hall – The Countryside Experience, Shropshire
Streamvale Open Farm, Belfast
Best Food and Beverage Award
Sponsored by Booker Wholesale
Barleylands, Essex
Chobham Adventure Farm, Surrey
Churchfields Farm, Worcestershire
Farmer Copleys, West Yorkshire
Tapnell Farm Park, Isle of Wight
Best in Education Award
Cannon Hall Farm, South Yorkshire
Hall Hill Farm, Durham
Park Hall – The Countryside Experience, Shropshire
Thornton Hall Farm, North Yorkshire
White Post Farm, Nottinghamshire
Whitehouse Farm Centre, Northumberland
Best Digital Presence
Sponsored by Vennersys
Cannon Hall Farm, South Yorkshire
Fishers Adventure Farm Park, West Sussex
Noah's Ark Zoo Farm, Bristol
Pennywell, Devon
White Post Farm, Nottinghamshire
Day Maker Award
Sponsored by Playscheme
AJ – 4 Kingdoms, Berkshire
Anthony Moore – White Post Farm, Nottinghamshire
Arron Spicer – Finkley Down Farm, Hampshire
Jess King – Cattle Country Adventure Park, Gloucestershire
Joe Huntly – Puxton Park, Somerset
Mark Wibberley – Pennywell, Devon
Roger Nicholson – Cannon Hall Farm, South Yorkshire
Best Trade Supplier
Sponsored by NFAN
David Taylor Design, Cornwall
Innovative Leisure, Leicester
Outdoor Play People, Cornwall
Timberplay, Sheffield
For more information please contact David Leon info@farmattractions.net or call 01904 615059