Costs & Booking
Stand Space Prices
| | | |
| --- | --- | --- |
| Stand space size | MEMBERS | NON-MEMBERS |
| 2m x 2m | £380.00 | £540.00 |
| Power | £60.00 | £80.00 |
| Table | £10.00 | £15.00 |
Online booking is only available to NFAN Members. You must be logged in to access the booking form. If you have lost your login details or if you are not a NFAN member and would like to book a stand please contact the NFAN office on 03333 448987.
30% Discount for NFAN Members
If you're a NFAN Member, you'll receive a 30% discount on your stand space!
Larger stands are available by booking adjoining stands. If you wish to book more than one stand add the first stand to the Cart and then Continue Shopping to book another stand and any extras adding these to the Cart. You can then pay for all stands and extras together.
How to book your stand space
Members – Take a look at the Exhibition Floorplan and choose your preferred stand(s). Tap here and select your options. You will be able to select the stand number you want from the drop down menu. If the stand is already booked it will either not be listed or will show as SOLD OUT when selected. Select power, table, dinners and other networking events you wish to attend.
NB: All Bookings are subject to the NFAN's standard Terms & Conditions
Non-Members – To book a stand contact the NFAN office and speak to Jodie Kimble on 03333 44 8987 or email info@farmattractions.net
Stand sizes
The standard size for a stand is 2m x 2m. You are able to buy adjacent stand spaces to make a bigger stand. To keep prices low for exhibitors, we do not offer a shell scheme, only floor space.
Do you need power?
Power within the Exhibition Hall has to be rigged for each stand. If you require power there will be a fee of £60 per socket outlet. Power is only provided during exhibition hours.
Do you need a table?
5ft tables are available to hire for a nominal £10 charge, just add them to your booking.
Bring along extra exhibitors
Each 2m x 2m stand space includes one member of staff. If you book two stands it includes two exhibitors. Extra exhibitors cost £48 per person + VAT. Simply select this option when booking.
Exhibitor tickets include lunch and refreshments and access to the Conference seminars on Thursday.
Exhibition Floor Plan
Have a look at the floor plan! Please note this will be updated periodically so may not reflect current availability, to check which stands are still available, go to the booking section.
A friendly Yorkshire welcome awaits you at Doncaster Racecourse ( DN2 6BB) where the Conference & Trade Exhibition is taking place.
The Trade Exhibition is taking place in the Exhibition Hall on the ground floor and the Conference will be held in the Premier Suite on floor 3.
Book for the Awards Dinner & Open Day
There are many networking events around the Conference which exhibitors in the past have found to be very beneficial to attend. Have a look to see what's on…
At the same time as you book your stand you can use the online booking form to book for the Annual Awards Dinner, Pre-conference Open Day and other options. If you have already booked a stand and wish to book additional activities only, you will need to select 'No Stand' from the drop down list of stands.
Loading & Unloading
Vehicle Access: There is loading access available from 11am to 5pm Wednesday 29th January, this is a secured area, so please indicate whether you will require access.
Parking: There is complimentary car parking in Car Park A, a short walk to the venue.
Accommodation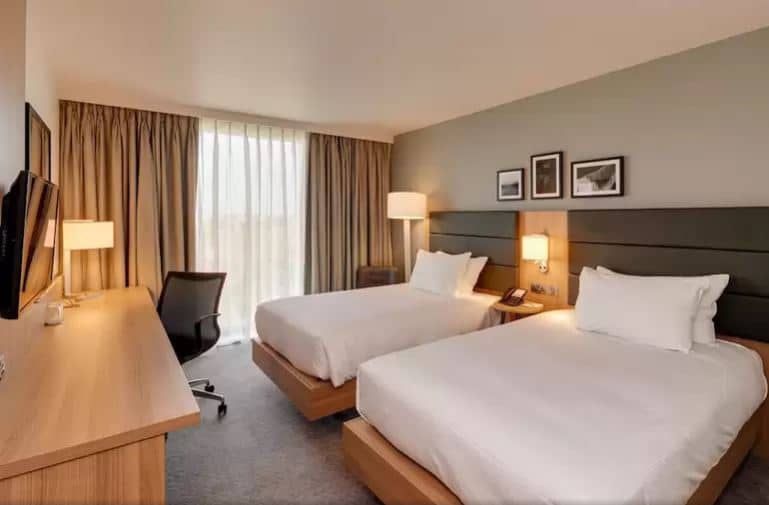 NFAN has negotiated special rates for our guests at Hilton Garden Inn (next to Doncaster Racecourse) on Tuesday 28th & Wednesday 29th January 2020. These special rates stop after 31st December 2019, so make sure you book before the deadline.
Simply follow the link below to book your discounted room!
| | |
| --- | --- |
| Room Type | Cost Per Night |
| Single Occupancy | £89 |
| Double Occupancy | £99 |
Free listing in the Conference Brochure
All exhibitors get a free listing in the Conference Brochure which is included in delegate welcome packs. Please email a description (up to 150 words) and a hi-res logo to info@farmattractions.net. Deadline: Friday 3rd Janurary
Sponsorship Opportunities
Want to raise your profile further? Get involved with one of our sponsorship opportunities.

We have 4 fantastic opportunities remaining!

– 28th Jan – Informal Dinner Sponsor – £1500
– 29th Jan – Yorkshire Wildlife Park Open Day Visit Sponsor – £550
– 29th Jan – Drinks Reception sponsor – £750
– 29th Jan – Best in Education Award Sponsor – £700