Promote to Farm and Rural Attractions
Back for 2014, the NFAN Annual Conference & Trade Exhibition is bigger and better. In a brand new venue, you'll find a self contained conference space, with the capacity for more delegates and a larger trade exhibition.
In previous years the NFAN Conference has attracted between 120-150 farm and rural attraction delegates. If you are looking to generate new business from this sector, this key event is for you.
We are also delighted to confirm the new venue offers free Wi-Fi.
A new Venue
The Majestic Hotel in Harrogate is a new venue for February 2014 and will enable the Conference and Trade Exhibition to be within the same building.
At NFAN we are very excited about this venue and look forward to holding our Conference and Trade Exhibition here for 2014.
The Event Format
The main Conference and Trade Exhibition is held on the 12th February. On 11th February, a tour will be organised to Cannon Hall Farm, with an informal awards dinner later that same evening at the Majestic Hotel.
All trade exhibitors are encouraged to attend the dinner the night before and mingle with delegates. To book the Awards Dinner click here. 
2014 Prices – This event has now passed
SIZES
PRICES
Stand Size
Members (with 30% discount)
Non-Members
2 x 1.5 metres
£230.30
£329
2 x 2.5 metres
£378
£540
3 x 2 metres
£455
£650
3 x 2.5 metres
£556
£795
To discuss a stand call Louise Fuller on 01442 890088 or email marketing@farmattractions.net.
Sponsorship Opportunities
The sponsorship opportunities have all been sold for the 2014 NFAN Annual Conference.
For more opportunities to increase your presence in 2014, please view our sponsorship and advertising opportunities.  Alternatively, contact Louise Fuller at marketing@farmattractions.net or call 01442 890088.
The NFAN Exhibition Floor Plan
Please click on the below floor plan to view a larger scaled version.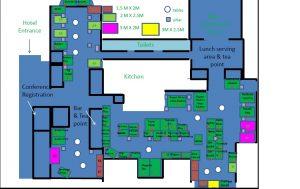 How to book:
1. Select your trade stand  below
2. Fill in your details on the online booking form
3. Click 'Buy Now'
4. On the next page, if you are member enter your coupon code to get 30% discount
5. Proceed to payment