2019 Awards Winners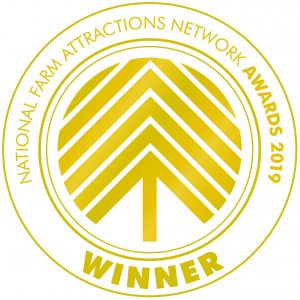 Jim Keetch Farm Attraction of the Year Award (Over 75,000 visitors)
Sponsored by Marsh & Co and AXA XL insurance
Winner – Puxton Park, Somerset
Highly Commended – Fishers Adventure Farm Park, West Sussex
Finalists – Finkley Down Farm, Hampshire; Williams Den, East Yorkshire; Rand Farm Park, Lincolnshire
Jim Keetch Farm Attraction of the Year Award (Under 75,000 visitors)
Sponsored by David Taylor Designs
Winner – Pink Pig Farm, Lincolnshire
Highly Commended – Wynford Farm, Aberdeenshire
Finalists – Cantref Adventure Farm, Brecon
Innovation Award
Sponsored by Marsh & Co Insurance
Winner – White Post Farm, Nottinghamshire
Highly Commended – Odds Farm Park, Buckinghamshire
Finalists – Longdown Activity Farm, Southampton; Marsh Farm, Essex
Best Trade Supplier
Sponsored by NFAN
Winner – Timberplay, South Yorkshire
Highly Commended – Teddy Mountain, Devon
Finalists – Agility Marketing, Hertfordshire; Outdoor Play People, Cornwall
Best Food and Beverage Award
Sponsored by Booker Wholesale
Winner – Odds Farm Park, Buckinghamshire
Highly Commended – Cantref Adventure Farm, Brecon
Finalists: Cannon Hall Farm, Barnsley; Cotswold Farm Park, Gloucestershire;
Pink Pig Farm, North Lincolnshire
Best in Education
Sponsored by Jumping Pillows
Winner – Rand Farm Park, Lincolnshire
Highly Commended – Tatton Hall Farm, Cheshire
Finalists – Hall Hill Farm, Durham; Park Hall The Countryside Experience, Shropshire
Best Digital Presence
Sponsored by Vennersys
Winner – White Post Farm, Nottinghamshire
Highly Commended – Fishers Adventure Farm Park, West Sussex.
Finalists – Avon Valley Adventure & Wildlife Park, Bristol; Mead Open Farm, Bedfordshire; Odds Farm Park, Buckinghamshire,
Day Maker Award
Sponsored by Playscheme
Winner – Colin King, 4 Kingdoms, Berkshire
Highly Commended – Andrew Garthwaite, Adventure Valley, Durham
Finalists – Scott Boyd, 4 Kingdoms, Berkshire; Alex Chettur, Marsh Farm, Essex; Chloe Miles, Mead Open Farm, Bedfordshire; Ceri Russell-Wilson, The Big Sheep, Devon; Dawn Peters, Whitehouse Farm Centre, Northumberland; Jeanette O'Neil, Willows Activity Farm, Hertfordshire.
Award Night Photos available click here
The winners were announced on Wednesday 30th January 2019 at a glittering awards dinner as part of a three day Annual Conference in Edinburgh. The annual gathering of farm attraction owners and industry suppliers is the highlight event of the year and includes visits to nearby farm attractions, trade exhibition and conference.